Comelia Ann Parker
Cornelia Ann Parker, OBE, RA (born 1956) is an English visual artist, best known for her sculpture and installation art.
Parker is best known for large-scale installations such as
Cold Dark Matter: An Exploded View (1991) – first shown at the Chisenhale Gallery in Bow, East London, for which she had a garden shed blown up by the British Army and suspended the fragments as if suspending the explosion process in time. In the centre was a light which cast the shadows of the wood dramatically on the walls of the room. This inspired an orchestral composition of the same name by, Joo Yeon Sir.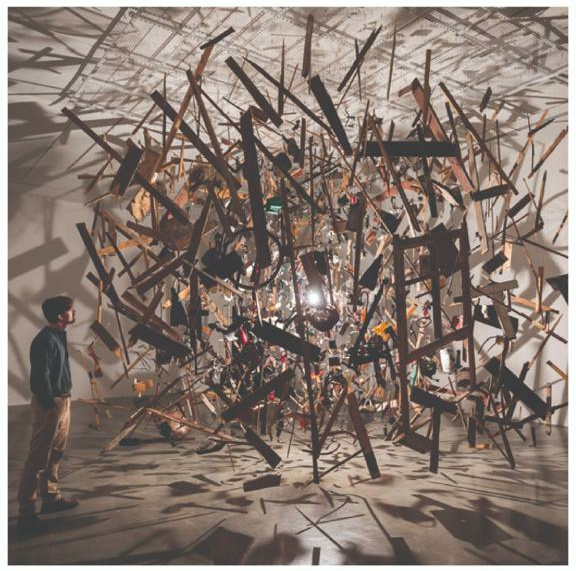 Thirty Pieces of Silver, comprises over a thousand flattened silver objects, including plates, spoons, candlesticks, trophies, cigarette cases, teapots and trombones. All the objects were ceremoniously crushed by a steamroller at Cornelia Parker's request. She then arranged the transformed silver artefacts into thirty disc-shaped groups, which are suspended about a foot from the floor by hundreds of fine wires. The title refers to the biblical story of how the apostle Judas Iscariot betrayed Jesus in return for thirty pieces of silver.